Uncle Harold just wants to have fun!
You've already met his sister, Aunt Ruth . . . and made that image into a Card In A Box. Now you can do the same with Uncle Harold.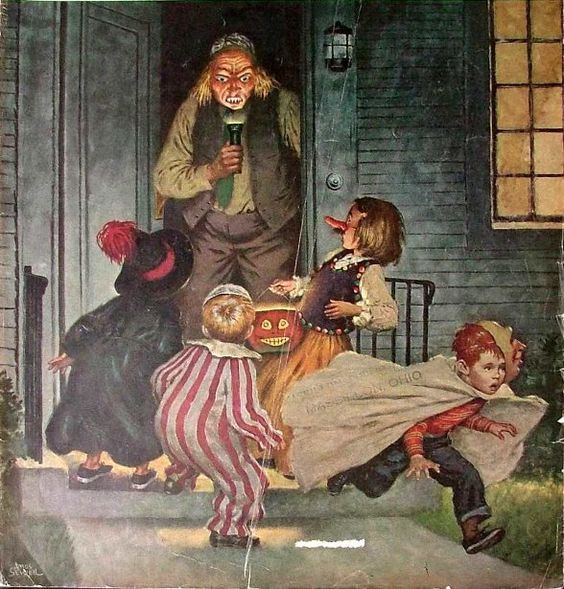 Click the link above to meet Aunt Ruth if you haven't already . . . and learn how to make a Card In A Box.
You can download Uncle Harold by clicking the picture to the right. I have a PDF for you. You may have to print out more than one copy so you'll have plenty of pieces to cut out and put in your Card In A Box. Also feel free to add other elements.
I do like the vintage feel of this picture . . . and the one of Aunt Ruth, too.
They remind me of Halloween trick-or-treating when I was a kid. It was truly magical . . . running around the neighborhood getting candy from each house . . . and knowing I was safe because Dad was waiting on the sidewalk talking with other fathers while they waited for us to get some candy in out bags.
My neighborhood is the same . . . I do like seeing the kids and saying hello to their parents, too. It is a nice family friendly night.
It's after all the trick-or-treaters go home . . . and the neighborhood is quiet is when I go for a brief walk . . . I see dropped candy on the sidewalk . . . I can hear my footsteps as they echo up the street . . . It is eerrily calm . . . almost too calm . . . and my imagination goes into high gear . . .
It is just the right setting to get me in the mood to read my favorite Halloween story . . . The Legend of Sleepy Hollow by Washington Irving. Every year I read of Sleepy Hollow and the schoolmaster Ichabod Crane and his misadventure that Halloween Night.
Thanks for stopping by!
Sharon