The sun is shining and the birds are singing.
It is a beautiful summer day!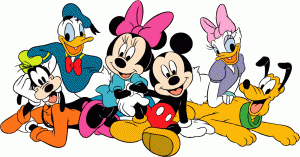 I've been working on some scrapbook projects and going through pictures. I do love all the Disney characters I grew up with . . . and some new ones. I have been going through clip art and coloring book images just for fun and to add to my scrapbook pages to give them some fun . . . and we all know Disney equals fun!
Well, we have Mickey and Minnie, Donald and Daisy, Goofy and Pluto just kicking back. I think they may be waiting for the fireworks to start . . . but that won't be until tomorrow night . . . or is it the BBQ feast they're waiting on?
I know at my house we're BBQ-ing up a storm. We just can't get enough of that char-broiled flavor in our meat and vegetables.
And, yes, as the BBQ is cooling down, we bring out the fixings for s'mores.
There are those who would prefer to have a nice refreshing root beer float to top off the end of a beautiful day. I love root beer floats . . . done the old-fashioned way . . . just a scoop or two of vanilla ice cream in a mug of root beer. It is refreshing and oh so filling!
I usually start out small with a little ice cream and root beer . . . then add more ice cream and root beer . . . if I have room for a bit more. And you can always share your root beer with someone else . . . one can is more than enough for two root beer floats. At least at my house. You may do something quite grand with yours.
A beautiful summer day spent with friends and family is wonderful. Lots of conversation and plenty of activities to keep the kids happy and entertained. Maybe we'll have a scavenger hunt before nightfall . . . I like doing it like an Easter Egg hunt. I hide things around the yard and take pictures of them. Then I cut up the pictures and mix them all up . . . the kids need to put the pictures together in order to find the hidden objects.
It is fun and a bit challenging. With everyone working together, the objects are found and the kids decide which one they want to keep. I usually have board games, card games and puzzles that I hide. Then we can close out the evening playing those games.
I love having family game nights. Kids can play together. Adults can play together. We can all play the games together. That is usually the best, but sometimes it's good for kids to learn how to cooperate and settle their own disputes.
If this sounds like fun, here are some games you may enjoy playing with your family and friends during this summer season:
I could go on and on . . . but this will get you started. Just click one of the links and your adventure is on to finding the right board and card games to play with your family and friends.
Thanks for stopping by!
Have a safe 4th of July!
Sharon