The Neighborhood Is Buzzing With Excitement …
Getting the Christmas lights up and all the associated decorations … I'm not aware that it's an official neighborhood competition, but it does seem to be with some … 
I'm not part of that group … It's not that I have anything against Christmas or Christmas lights … It's just that I don't necessarily like following what others are doing. When I'm ready and have the notion to do so, I'll put up my Christmas lights and lawn decorations … Until then I'm not going to be all lit up …
Plus I Did Not Give The Neighbors The Satisfaction Of Taking Pictures And Giving Compliments
Just call me Scrooge … 
Quite a few years ago I wrote a post about making a Christmas tree using books. This was exciting!! You could use old books you had on hand or gather up some from a thrift shop or used book store. Just add lights and you have a very interesting conversation piece …
You could use whatever else you have handy … CDs or DVDs … Perhaps add those with hardcover and paperback books … Perhaps you do jigsaw puzzles and would like to have a stack of those along with other items to make your unique Christmas tree … I'm wondering about using Tarot Decks … That may prove to be interesting.
We have hobbies and collections of things that may lend themselves to a very original display in the shape of a tree … Weave in the Christmas lights and you have a homemade Christmas tree … 
This could be a fun family project … I wonder how favorite toys would work … Or collectables … You tree could have a very unique shape … This may make it more unique and an expression of your family … Make it yours …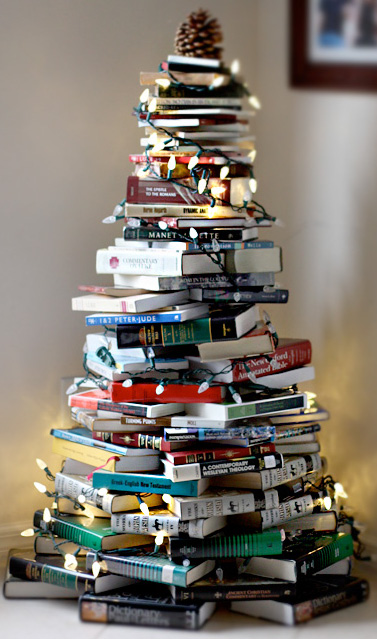 It's Always Fun To See An Idea — A Christmas Tree Made Out Of Books And Create One Of Your Own To Express Your Interests Or Those Of Your Family
Include them in your project and it will bring more meaning to the holiday season …
I love tradition, but I'm all into creativity and imagination. 
I was thinking about food containers, too — different boxes of favorite foods … tins, too … My goodness, you could use just about everything … On your next shopping trip for groceries, you may just be thinking about this post and the book tree …
Thanks for stopping by!
Sharon