Create a little grave yard scene on top of your favorite cupcakes and you have a winning treat for your guests. The tombstones are quite appropriate for the season: Overdosed on Candy, A Very Sweet Ending, Death by Chocolate, RIP. I print them out on cardstock, glue them on a toothpick and I'm ready to put them on my frosted cupcakes, but they need something else. That's where you can be creative with a variety of chopped up mini candy bars and melted white chocolate chips. You can either create your designs on parchment paper by drawing them out freehand or you can use candy molds.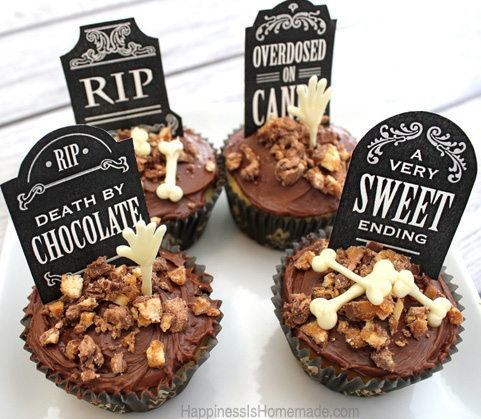 Image Compliments of http://www.happinessishomemade.net
Here are the Tombstones
Compliments of http://www.blog.chickabug.com
If you're not comfortable drawing out your own hands and bones, here's a candy mold you may find helpful:
    Thanks for stopping by!