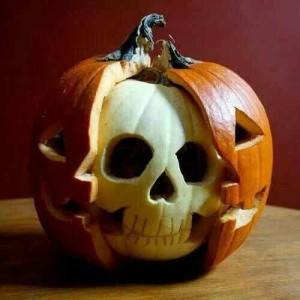 With a little imagination, you can turn your Halloween pumpkin into something magnificent. This Pumpkin Skull is very clever. I found it on Pinterest. No instructions are necessary. What you see is what you do.
Clean out your pumpkin
Split it open by slicing out a piece to accommodate a skull
Carefully place a skull inside
You can put a battery operated votive or tea light inside the skull
Carve a face on the pumpkin, half on each side
You may have your own idea of how to do this Halloween craft, but this seemed to work for me. Instead of a skull, you could set up an interesting diorama.
If you do use the skull, you can add some interesting extras like plastic spiders or others bugs. Allow your imagination to go wild.
This is a fun family project. The kids will enjoy embellishing the skull and the pumpkin if they are too young to carve the pumpkin.
Here are some helpful links to get your imagination into high gear:
Have fun looking around your local dollar store. You'll come up with some delightful embellishments.
Thanks for stopping by!